Servicios Basados en Ubicación (LBS): Explorando sus usos en Educación
Resumen de la Presentación (original proporcionado por el autor):

"Las diferentes tecnologías de Servicios Basados en Ubicación pueden ser usados en las universidades para proporcionar mejores servicios digitales para estudiantes y profesores, optimizar las operaciones del campus y contribuir con información analítica de gran valor para ser usada por sistemas de inteligencia artificial (AI)."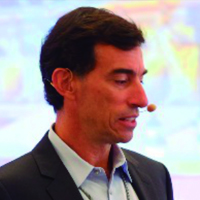 Heitor Faroni Director, Solutions Marketing Alcatel-Lucent Enterprise Network Division
Heitor Faroni is a Director of Solutions Marketing and Head of Network Solutions for Education. He is responsible for the strategy, messaging, go-to-market and business development of network solutions for the education vertical. Prior to this he created the Enterprise NA Bids and Proposal team. Previous to Alcatel-Lucent Enterprise, Heitor held the positions of Director of Strategic Initiatives, Vice President of Products Sales and Director of Sales Engineering at both startups and large corporations in the high-tech industry. Heitor has more than 20 years of experience in both enterprise and carriers markets and holds a BS in Computer Science from the Brazilian University of Campinas (UNICAMP).